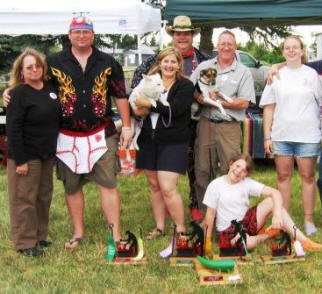 A contingency of The Colorado Chili Pod's best rose to the occasion for this event and did not disappoint. This year the cookoff returned to Chugwater Town Park, a site that not seen the event since 2004. Warm weather and healthy appetites were the standard of the day for this 22nd Annual event.
There were plenty of cooks on hand for the cooks party the night before. All of them camping at the cook site. Of course this made it a bit easier for some to find the cookoff site the next morning. As dawn broke and the sun climbed into the sky, the chili cooks donned their ceremonial garb and prepared to do battle.
This is always a great cookoff to attend if only to see old friends and cooks that don't always make it down to the Colorado events. Additionally, there is always a good abundance of Music, Beer, BBQ, Vendors etc...etc.. Temperatures were in the high 90's, so most of the hungry attendees were hot...inside and out.
The judges all agreed that this was the best tasting batch of chili's that this event had ever seen! That's saying a lot considering a 22 year history. They also all agreed that these were some of the hottest chili's that had ever been turned in at Chugwater. With three preliminary rounds for Red and two for Green the judges may have worked as hard as the cooks!.
With long lines at every cook's tent the attending public got a taste of some of the best chili in the world. A bit of a rain shower towards the end of the day cooled off some of the folks, but did not dissipate the crowd. Most of them held out to see which chili cook would prevail.
When it was all over the Colorado Chili Pod walked away with 12 awards - not bad for 7 pod members attending. Kyle Haberman came away with a 3rd Place Red, which qualified him for Terlingua, 6th Place Show, and a 3rd Place Green - First time out with Green in competition, good going Kyle. Judy (Jody) Haberman placed 10th in Red. Stephanie Lee picked up a 7th place win in Red and the "Green Horn" award for the highest placement of a first time Chugwater Cook. Her Dad, Steve Lee came away with 6th Place Red, this after he burned his chili, and First Place in Green Chili. The Warriors of the Crimson Pepper, Steve, Stephanie and Katie Lee also picked up First in Showmanship. Speaking of Katie, she came away as the Wyoming State Junior Champion placing first in her event. Rocky and Julia Kimball picked up 5th and 4th place, respectfully. Julia was back in the saddle, and her winning ways, a week after surgery. Now that's what I call a die hard chili cook!
Congratulations to all of our winners